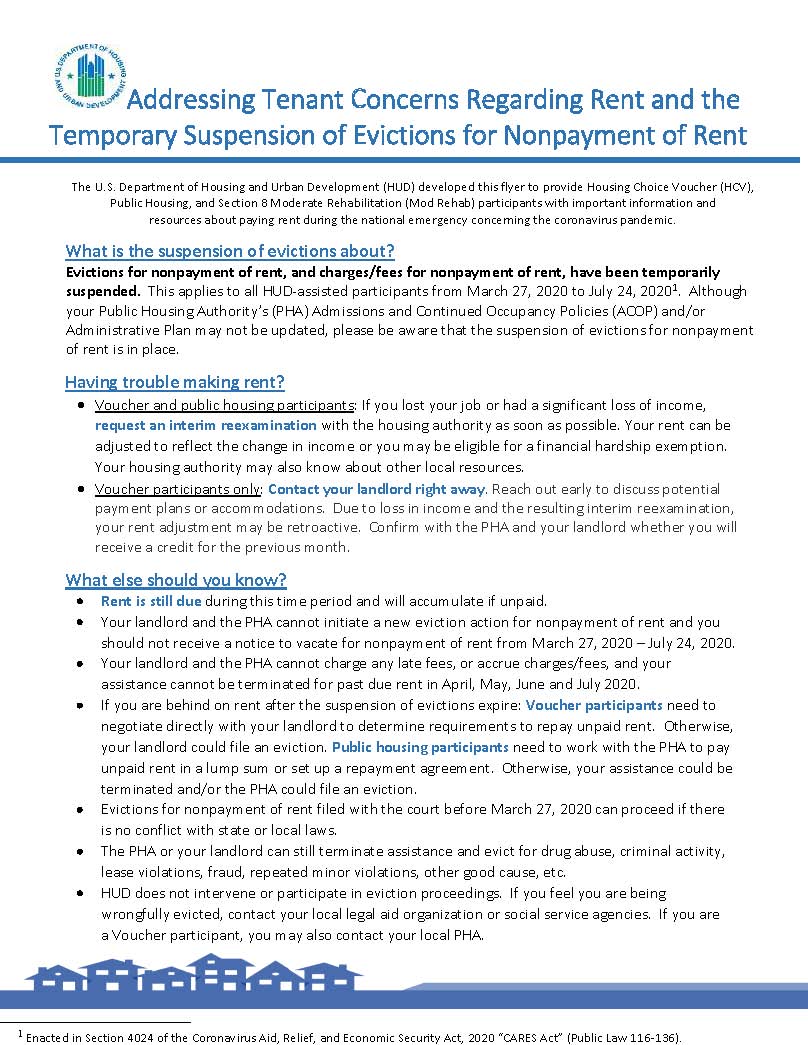 Posted: 3/31/2020
Effective 4/1/2020, the Augusta Housing Authority will move to complete urgent and emergency work orders only (see definitions below) when it comes to terms of working inside an occupied unit. All work orders in exterior/grounds/common areas will continue as normal.
Emergency Work Orders:
An Emergency issue is one that, if not dealt with promptly, could cause injury, loss of life, threaten health or cause serious property damage. Examples of such issues are: Leaking or broken gas lines, fires,
loss of all power, broken water lines, exposed electrical lines, loose ceilings, no heat (when the outdoor temperature is below 40-degrees F), no air conditioning (in elderly housing when the outdoor temperature exceeds 80-degrees F), elderly lockouts, broken exterior door locks or other conditions that might cause harm to the resident or others or damage to property. Emergency work will be abated immediately or, if that's not possible, within 24-hours.
Urgent Work Orders:
An Urgent issue is one that would create a major inconvenience for residents, but which is not life-threatening and will not cause serious property damage. Examples of such issues are: Sink or toilet stoppage, family lockouts, no hot water or a refrigerator not cooling. Urgent work will be completed within 48-hours.
The health and well-being of residents, staff, and visitors is a top priority for the Augusta Housing Authority. Please refer to the information and resources below to maintain your health and the health of those around you.
In the interest of public health, the Augusta Housing Authority (AHA) is closing its lobbies to the public effective immediately and until further notice.
Only those with Scheduled appointments will be seen.
AHA is open for business via phone and email. Please contact your AHA point of contact for more information.
Please use the mail slots at the offices to drop off paperwork or documentation.
We will continue to adhere to our main goal of assisting low-income families through housing. In doing this, we will be mindful of the CDC guidance in social distancing as well.
Oak Pointe Office
706-722-0001
Allen Homes Office
706-724-9704
M.M. Scott Office
706-722-0657
Olmsted Homes Office
706-733-5958
Peabody Apartments Office
706-724-0399
Ervin Towers Office
706-724-8949
Hal Powell Apartments Office
706-736-4138
Dogwood Terrace Office
706-724-8074
Jennings Homes Office
706-733-2609
Barton Village Office
706-790-5908
Overlook Apartments Office
706-790-5908