Housing Authority of the City of Augusta, Georgia
Public housing was established through the U.S. Housing Act of 1937 to provide decent and safe rental housing for eligible low-income families, the elderly, and persons with disabilities. Public housing comes in all sizes and types, from scattered single-family houses to high-rise apartments for elderly families. Approximately 1.3 million households are living in public housing units, managed by some 3,300 HAs. The U.S. Department of Housing and Urban Development (HUD) administers Federal aid to local housing agencies (HAs) that manage the housing for low-income residents at rents they can afford. HUD furnishes technical and professional assistance in planning, developing and managing these developments.
Click here to view the Annual Plan 2021
To view the ACOP click here.
Click Here to check if the Augusta Housing Authority's Waiting List
for Public Housing is accepting new applications.
Frequently Asked Questions About Public Housing Program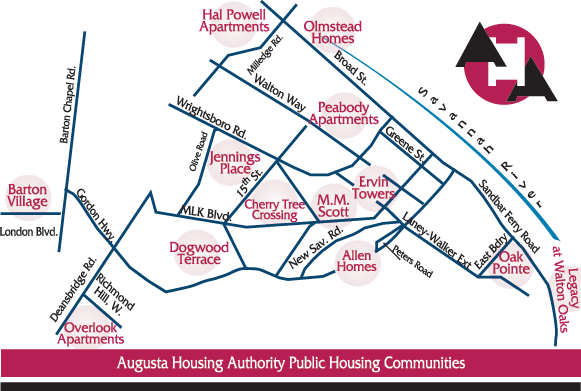 What areas are considered public housing? The Public Housing Program is divided into areas which consist of: Allen Homes, MM Scott, Oak Pointe, Powell Pointe, Peabody Apartments, Hal Powell, Ervin Towers, Olmstead Homes, Jennings Place, Overlook Apartments, Dogwood Terrace,Barton Village(some areas), units at Legacy at Walton Oaks and Walton Oaks.
Can I have family stay with me in public housing? You can have visitors, and you are responsible for their code of conduct.  Guests will be permitted to stay on the premises for only fourteen days.
Can I have pets in public housing? Yes, you can have a pet that fits within AHA regulations. The regulations require a $300 pet deposit and set some limits on the type and size of the pet.
I need housing immediately, can you help me? The Augusta Housing Authority does not provide emergency housing. Urban Ministries of Augusta, Equal Opportunity Authority, Interfaith Hospitality Network. Salvation Army or Beulah Grove Resource Center are all good places to start looking for crisis assistance. Also, the United Way of the CSRA has a 211 telephone number that can put you in contact with help.
If my name comes to the top of the waiting list – can I be sure I'll get housing assistance? Once your name comes to the top of the waiting list, AHA staff will review your information to determine eligibility.
What are Community Service Requirements? Please click on the "Community Service Requirement" picture below for more information.

Where can I perform Community Service? Community service activities may include volunteer work in a local school, hospital, or childcare center, working with youth organizations, or participation in programs that strengthen resident responsibility such as household budgeting, credit counseling or drug and alcohol abuse counseling and treatment. You may also view a list of pre-approved locations.